Hypixel - Minecraft Server and Maps
New host, EU Servers, New Minigame, Mega Walls Tournament and more!
We are proud to announce that we are now finally 100% moved over to the new host
MCProHosting
!
MCProHosting is giving
75% OFF
all their Minecraft servers for the next 7 days with the coupon code "Hypixel". Yes, that means you can get a 18 slot Minecraft server for as low as
$1.50
!
I'm going to give
8,000
coins (spread across all games, 1K each, even Arena Brawl!) to everyone that order their Dirt Plan or anything higher!
This deal is only redeemable once per player and will end in
7 days
, limited time don't miss it!
CLICK HERE:
https://mcprohosting.com/?promo=hypixel
It's their way to let you guys try their services at a ridiculously never-seen before price. I am positive that we can get them busy and I'm confident that they will serve you well!
Let me repeat; you can get a Minecraft server along with 8,000
coins on the Hypixel Network for as low as $1.50!
You will receive a redeem code by email from MCProHosting.
EUROPEAN HYPIXEL SERVER!
FINALLY! I'm happy to announce that we are now working on setting up servers for EU players within the next few weeks/months for top quality ping!
It will use the same stats/kills/ranks so don't need to worry about that, keep playing on US servers in the meantime and grind some kills!
More details will be revealed in the next few days.
We will be using a new technology allowing US and EU players to play on the same network.
MEGA WALLS TOURNAMENT!
The first MEGA WALLS tournament will happen on the 15th of March and everyone will be able to participate, no registration required!
You will be able to collect Tournament Tokens to unlock unique items in all games! The top players/guilds will share over $2,000 in Hypixel Store / Physical prices along with extra Tournament Tokens.
Tournament Tokens are usable in all shops! (New Blitz Kits, Quakecraft Trigger, etc)
More info will be released in the following days.
Arena Brawl BETA
Edit: Beta Released to VIP's and up!
The version you will be playing is far from the complete version of the game, but we need a lot of testing since it's a competitive game.
Herobrine III
Herobrine III is coming too! We are currently in testing phase, adding NPCs for storyline and such. There is over 24500 command blocks, it is our biggest and most intense adventure map.
We are planning to release a few days after 1.8.
The Arcade Games
After we are done with the Arena Brawl in a few weeks, we will be working on The Arcade Games and trust me, this is gonna be a lot of fun! The Arcade Coins will be exchangeable for other games.
Why did we change hosts?
A few months ago we changed hosts, but we all underestimated the scale at which the Hypixel Network is growing resulting in some issues.
In the past few days...
Last week on twitter I asked you guys to send me fan art of your favorite game to get 30,000 coins and I finally picked the winners!
by
@BitzHawk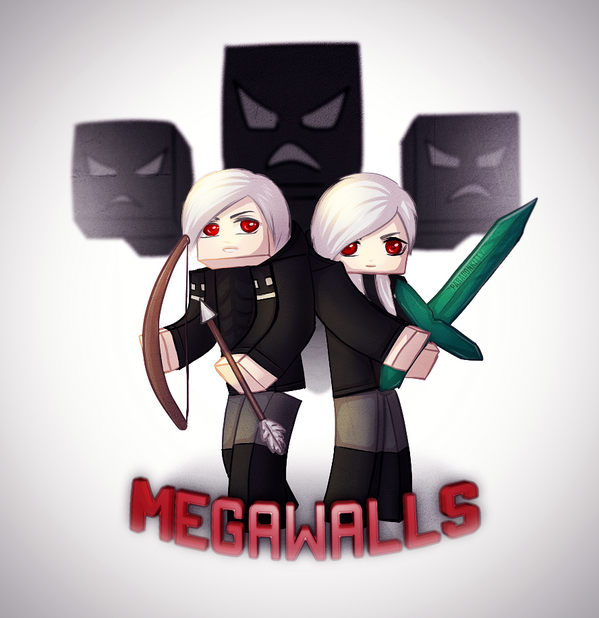 by
@ParagonKitty
by
@MissNanalolita
by
@Nuibella
Thanks to everyone that sent me art, it was a very difficult choice and I decided to go with different art style for each winners
Hi, I bring good news!
We will be releasing the new Mega Walls class Shaman this weekend and also I'm doing a fan art contest where you can win 30,000 coins of any games, just tweet at me:
https://twitter.com/Hypixel/status/431816876599963648
We also started interviewing people for the developer job and it's going very well, so hopefully we'll be able to release Arena and Arcade Games very soon
Oh, almost forgot... new website coming up soon!
Have a great weekend <3
If you want to work with talented, driven, and creative people to create the best Minecraft experience ever, now is your chance! We favor diversity, creativity and the desire to succeed as a team. If you've got the skills and drive, you'll have the opportunity to be a part of our amazing adventure.
Job Offer:
Bukkit Minigame Developer
Applicants should obviously have experience with Java and Bukkit.

We are looking for advanced developers.

Must be able to put at least 35 hours a week.

No network experience is required.

Advanced gaming experience is a plus.

We currently only accept people over 16.

Must be able to speak english and use voice communication.

This is a paid position, hourly rate will be based off your experience and skills.
Send your resumé/CV along with information about yourself, your schedule, gaming experience and links to any work you have done at
jobs@hypixel.net
We will only reply to applications that we are interested in and it may take up to a month for us to reply.
If you have questions, you can email us at
jobs@hypixel.net
but make sure to title the email as "Question".
Guild Update - Phase 1
Lots of new features have been released today! First of all, guilds are finally out, so let's celebrate! Also, new items have been added to the compass which include two new upcoming games, quest log, character information, and guild information.
What are guilds?
Guilds are our version of clans/factions on the server. You can earn Guild Coins through participating in mini games. Guilds are a great way to meet new people and create new friendships within the server. Get your guild together and earn guild coins to get ready for future updates. More guild features will be coming soon such as guild ranking, guild pvp and guild related events.
All guilds start off with a maximum limit of 25 players per guild but you can upgrade by using Guild Coins. You can also purchase perks with Guild Coins, some could also assist you in mini games.
You can check out the new guild features by going on the server now and using
/guild help
.
In order to create a guild you must be a VIP+ or higher, but anyone can join a guild!
The Guild information when you type
/guild info
updates faster than the information on the compass, so do not worry if you see two different stats.
Recruit members for your guild or join a guild in the Guild section in the forum. There are already plenty of guilds to choose from.
This is Phase 1 of guild update, there will be many phases for the guild, but we needed to release it so that we could see all the bugs pop and fix those!
Guild ranks and what they do:
Guild Master
- Promote guild members to officer
- Demote guild officers to members
- Change guild settings
- Upgrade things from the guild shop
- Transfer the guild to someone who is VIP+ or higher
- Disband the guild
Guild Officer
- Invite players to the guild
- Kick players from the guild
Guild Members
- Use guild chat
- Earn coins for the guild by playing games
- Leave the guild
New Commands:
Here are a few new commands that have been added:
/guild - Shows you basic guild commands.
/guild create [Name] - Allows you to create a guild! (VIP+ only)
/guild members - Shows a list of all the members (A green dot on the right of their name means they're online, and a red dot means they're offline)
/guild info - Shows you how many coins your guild has and the daily limit
/chat [Guild, All, Party] - Allows you to toggle between the various chats.
Upcoming Lobbies:
- The Arcade Games is a combination of games that we've been working on but didn't feel that they were worthy to have their own individual lobby, we have lots of them! You will be able to exchange Arcade Coins for any other games, let's say 1000 coins for 100 mega walls coins.
- The Arena game is a very competitive pvp based game and it's never been done in Minecraft. The game itself isn't directly related to guilds. More information about this game will be coming soon.
Future Updates:
In the future there will be guild ranks, guild pvp and other guild related events. You will be able to use Guild Coins to buy the guild fortress upgrade which allows you to build a...